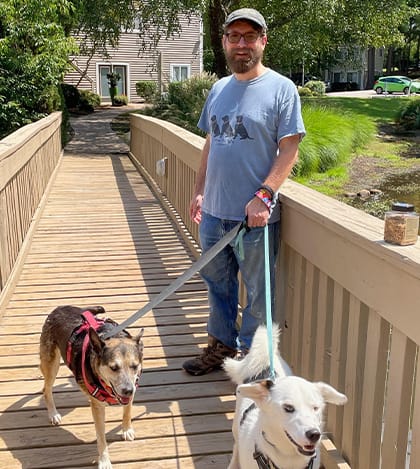 Dr. Geneczko
Dr. Geneczko grew up primarily in the Midwest, including time in Indiana, Ohio, and West Virginia. He did his undergraduate studies in biology at Kalamazoo College in Michigan. During his time there, he also completed a year of study abroad in Perth, Australia at Curtin University.
He then completed a year of graduate studies in immunology at Purdue University before attending Iowa State Veterinary School. At Iowa State, he served as an officer in the Canine Club, ZEW club, and Pathology club as well as serving as the Safety Committee representative for his class.
Dr. Geneczko has been pursuing a veterinary career since elementary school when a wandering terrier decided to come home with him. He currently has moved to a new house near hill ridge farm where he lives with his girlfriend, 2 dogs, 5 cats and a tortoise.
He is a fencer and medieval enthusiast who also enjoys board games and looks forward to visiting the local axe throwing establishment.